INDOOR EXHIBITORS – TOURISM
Big Game Parks / Kingdom of Eswatini:
Central Eswatini Cultural Heartland – Home to the country's Royal heartland and tourism hub.

Matenga Nature Reserve
Cultural Villages
Milwane Wildlife Sanctuary
Horse riding, bike rides, trekking.
Antelope, birdlife, zebra and more.

North West Eswatini – Highland Adventures

Explore Nature Reserves on foot or horseback.
Mountain biking or zip lines through treetops.
Rock art and a re-borne ghost town

North East Eswatini – Conservation and communities.

A number of sugar estates and home of a number of reserves.
Wild and remote beautiful settlements.
Walking trails, vast array of flora, fauna, and birdlife.
Hlane Royal National Park – the best game reserve, home to the Big Five and abundant birdlife.
Lubombo Mountains: 800 km fo mt range close to  Mocambique.
Unspoiled walking routes set up with community initiatives – mountain camps

South East Eswatini – Wildlife up close

Rhino experience to rival any in Africa.
Mkhaya Game Reserve
Nsela Safaris

Ask about their line up of exciting and interesting events.
Bill Harrop's Original Balloon Safaris:
Your bucket list adventure!

Win a Balloon Safari and Champagne Breakfast for 2!

  Bring your Expo Visitor Guide to the Information stand and enter. Winner will be announced on 27 October. Visit Competition page for details
Bluerhino Safaris:
Professionally guided self-drive safaris.
Explore our next adventures.
Buffalo City Tourism:
Gateway to Eastern Cape Tourism
East London
Steve Biko Centre
Himingways Casino
Botanical gardens
Mpongo Private Game Reserve
Beaches
City of Polokwane – Visit website
Mountain bike trails
Photographic Museum
Bakone Malapa Basotho Museum
Wild Thingz Animal Park
Polokwane Nature Reserve
Magoebaskloof Canopy Tours
Haenertsburg Organic Cheese Dairy
Makapansgat Caves
Trout fishing
Hiking Trails
Durban Tourism – Visit website
Durban, the Warmest Place to Be
Aquarium diving
Beach horse rides
Big swing
Boat charters
Canopy tours
Cycle tours
Gorge swing
Helicopter flips
Hot air ballooning
Kite surfing
Motorcycle tours
Microlight flight
Paragliding
Rap jumping
Shark cage diving
Swimming with horses
Eastern Cape Parks and Tourism Agency – Visit website
Hiking, Mountain biking, Rock climbing, Flyfishing, Ziplining, Canopy tours, Highest bungee, Dolphin Trail, Swimming, Canoeing, Snow experiences, 4×4 trails, Camping, Health spas, River cruises, Festivals, Birdwatching, Game viewing, Longest dual zipline in Africa.
Sunshine Coast
Addo National Park
The Karoo Heartland
The Wild Coast
Sundays River Valley
Nieu- Bethesda
Grahamstown
Tsitsikamma East of Storms River
Tiffendell
Port St Johns
Kouga Region
Jefferys Bay
St Francis Bay
Oyster Bay
Amathole Mountain Escape
Hogsback
Reserves
Baviaanskloof
Great Fish River
Escape the Wild:
Explore birding and wildlife destinations in South Africa

Uganda
Ethiopia
Ghana
India
Gauteng Tourism:
Cradle of Humankind
Dinokeng
Sebideng
KZN Sharks Board:
The first initiative taking protection against shark attacks.
Conservation and understanding to another level.
Net reduction and alternatives to nets.
Attend our audio-visual and shark dissections and learn more about sharks.
Join a boat tour and get to see staff actually servicing the shark safety gear.
Book an Outreach Education Programme.
KZN Wildlife – Visit website
Explore the conservation initiatives
The wildlife parks in KZN
Accommodation
Imfoluzi Trails
Giant Cup Trails
Cape Vidale
Giants Castle
Hluhluwe
Imfolozi
Kozi Bay
Monks Cowl
Midmar
Ndumo
Sodwana Bay
St Lucia
Limpopo Wildlife Resorts:
Resorts to explore. Ideal for all who wish a 2 to 4-hour drive from JHB to get away from the hustle of the city.
The Waterberg region
Mopani region
Vhembe region
Capricorn region
Sekhukhune region
Royal Jozini:
A private game reserve and a nature-lovers haven.
A transfrontier park
Luxury self-catering lodges
Tented camps
Game drives
All on the shores of the Jozini dam

22 Fantastic Prizes to be won!

Visit Competition page for details
Shearwater Adventures Victoria Falls – Visit website
Zimbabwe, Zambia, and Botswana
Zambezi river cruises
Adventure jet boating
River rafting
Bungee
Bridge swing
Flying Fox
Safaris
Croc cage diving
Horse riding
Fishing
Canoeing
Visit Knysna:
From Knysna to Oudtshoorn to Prince Albert and Karoo
Elephant Park
Cango Caves
River adventures
Quad biking
Scooter tours
Sailing charters
Sidecar Tours
Cycling
Festivals
Houseboating
Diving
Fishing charters
Kloofing
Wildlife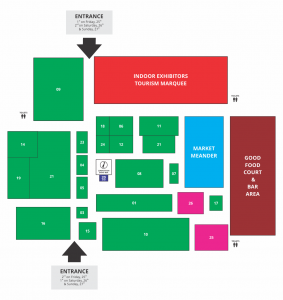 INDOOR EXHIBITORS – OTHER
Bell Morgan Leather:
Great quality leather shoes
Busipinco Art and Craft
Coffee Bar
Gingerbread Kits
Hero Hounds:
An online boutique pet shop dedicated to ensuring that your hero in your life is
happy, healthy and living and adventurous life – Biologically appropriate RAW food
with DoggoBone active; Raw food and treats
Home Direct
Honey Tales Africa
InStep Jozi
Katy Kruger
Krazy Katz
Milagro CBD Oil
NSRI (National Sea Rescue Institute) – Visit website
Offshore Sailing Academy:
Talk to us about modern training techniques to build your confidence on our yacht
out at sea and make sure that your sailing experience is what you dreamed it would
be.
Peter's Books
Puzzle Time
Qualito – Visit website
Romesco Olives
Serendipity Gifts
Umar Farook Cutlery Works
Vellie Boutique:
OUTDOOR EXHIBITORS
African Expeditions:
Come and meet Klaus and Sam! Real Camel Trophy men
Chat to Kevin Davies
Interactive area.
Talks on overland self-drive adventures.
Gearing up your vehicle for your self-drive trip.
Tips and hints over a moer coffee.

Win a Bucket List Trip for 2 worth over R60 000!

Visit Competition page for details
Chilled Squirrel:
E Bikes – try one out on the pump track!
Earth Gear:
Woodland boots, check them out!
Fiat Chrysler Sandton: – Visit website | Follow on Facebook & Instagram
Gauteng Tourism
Jaguar Bryanston
Leisure Marine
Linex Yamaha
Mitsubishi
North Motors
PinkDrive – Visit website
RadTrax
SanParks Honorary Rangers – Visit website
Find out about their events, guided hikes, bike rides and organized runs  through Big 5 country,  birding weekends, talks, concerts in Kruger and safaris.
Junior Rangers Programme
How to become an Honorary Ranger
Scouts South Africa:
Interactive zone giving your kids the opportunity to find out more about Cubs and Scouting.
Cub meet on Saturday at 10 am – get your kids there to find out what the Cubs do!
Scubaversity:
Beginner to professional diver
Time to dive
Dive tours
Aliwal Shoal
Bali
Red Sea
Sodwana
Ponta Malangne
South African Sailing:
From training to performance sailing
Standard Bank
Standard Bank ATM
Standard Bank Radtrax Pump Track
Test ride mountain bikes, E-bikes and skateboards
Subaru Bryanston
Venture Gear:
Wrapp – Watch video
Professional vehicle Wrapp.
Nissan Patrol gets an overall look.
KIDS ZONE
Nickerbockerdoodlebug:
Safe and secure play area – Accredited team specialising in 0 – 6 years of age.
Socialight Movie Nights:
Movie Zone for 7 – 14 (maybe more) to have the coolest zone to watch some awesome movies with headphones.
Large LED Screens.
Visit our Kidz Zone page for more details.
MARKET MEANDER
Atlasware
Bamboo
Border Collie Rescue
Bon Braai
Buddy Industries
C Gear
Curry for Dummies
Eco Baobab Eco Solutions
Eidelweiss
EPromo
Free Me – Friends of Free Wildlife
GM&C Investment
Grater Plate
Green Fire
Increda-peg
Insect Pro
Kreate-It
Mari's Fudge
Mystical Fire
Nutri Nation
Porta Cool (Dos Air)
Pink Drive
Safari SA
South African Guide-Dogs Association – Visit website
Spider Club of South Africa – Visit website
Suda Enterprise
Swim Dry – Visit website
Techniloy
Temptation Table
Woodrock Animal Rescue – Visit website
EVENTS & LIVE ENTERTAINMENT
Big screen rugby – catch the Rugby World Cup in the Higher Ground Restuarant on 8 screens. Bookings essential.
Coca-cola Gig Rig
PinkDrive Truck
Red Top Bus
SanParks Honorary Rangers
Scouts South Africa
Standard Bank Radtrax Pump Track
Visit our Events & Entertainment page for full details.
GOOD FOOD
Amicis – Pizza
Baan Bootsbar – Thai cuisine
BB's Biltong Bar – Biltong and boerewors rolls
Blackjack Events – Bar
Boost – Wraps, salad and fresh fruit juice
Capital Plants – Strawberries and cream, jams, syrups, smoothies, sorbets
Cupped Coffee – Coffee
Eggloo Bubble Waffles
Go Coffee Events – Coffee
Good Food Truck – Street food
House of Nuts – Roasted nuts
Lemonlicious (Zest) – Lemonade
Nescafé Op Tour – Coffee
Ola Icecream – Ice-cream
PortuGreek Food Truck – Prego rolls and espetada
Roeks Beer – Craft beer
Sensational Smoothies – Smoothies
Suikerbekkie – Assorted sweets and soft serve
Swagga Brewery – Craft beer and cider
Theo Fourie Chip 'n Dip – Chips