Not only will there be loads of interesting things to see and buy but there will be some exciting events happening for the duration of the 2019 Gauteng Outdoor Expo.
If you have never attended one of our Expo's before, you are in for a treat as there is something for everyone.  We have interesting talks – e.g. "How to make the most of your overland trip", fascinating exhibitors and good old South African products. For 4 x 4 and overland vehicles, see the likes of Jaguar, SMH Group – Fiat, Alfa Romeo, Jeep, Subaru and others; Great tourism opportunities to consider like The Eastern Cape Gems, Swaziland – Kingdom of Eswatini amongst others, learn some interesting facts about Sharks and peruse some interesting accessories for the outdoors and for "just because"! View our full list of exhibitors.
The parking is easy as you can catch the Red Bus and have fun from the extra parking or hop in a vehicle from SMH which will transport you to the Expo in one of their vehicles!
We have not one but two radio stations – Pretoria FM and Hot FM present at the Expo and they will be interviewing Expo visitors.
Oh but what about the Rugby World Cup Semi-finals?  We have you covered for both Saturday and Sunday mornings to catch the games. Gin and Tonic as well as Draft on Tap and an open Bar with over 17 different food vendors to satisfy your appetite.  Win or lose, we encourage visitors to attend and enjoy the expo afterwards and/or pay for the goods their wives may have bought while they have been at the Rugby
The Scout Cubs will be building the Entrance Tower and doing some amazing things during the Expo.  Visitors who have kids may want to attend one of their meetings during the Show.
Competitions at the Expo include a 16 day Guided 4 x 4 Self Drive tour through Namibia, a Hot Air flight with Bill Harrop's Original Balloon Safaris amongst others.
Should children be bored being dragged along with their parents, they can be left with Nickelbockerdoodlebug who are trained to look after and entertain your little ones or send the older ones to an indoor movie with Socialight. Visit the Kidz Zone.
ALL DAY, ALL WEEKEND ACTIVITIES & ENTERTAINMENT FOR THE WHOLE FAMILY
African Expeditions Meet & Greet:

Come and meet Klaus and Sam! Real Camel Trophy men that represented South Africa in 1994 and 1996 Borneo/Kalimantan and Chile/Argentina Camel Trophies.Their REAL Camel Trophy Land Rovers will be on display on the stand.
Chat to Kevin Davies, world traveller who has explored 52 countries on his motorbike. Find out about his amazing adventures!
Red Top Bus
SanParks Honorary Rangers
Scouts South Africa
Standard Bank Pump Track
Socialight Movie Nights
Knickerbockerdoodlebug
PinkDrive Truck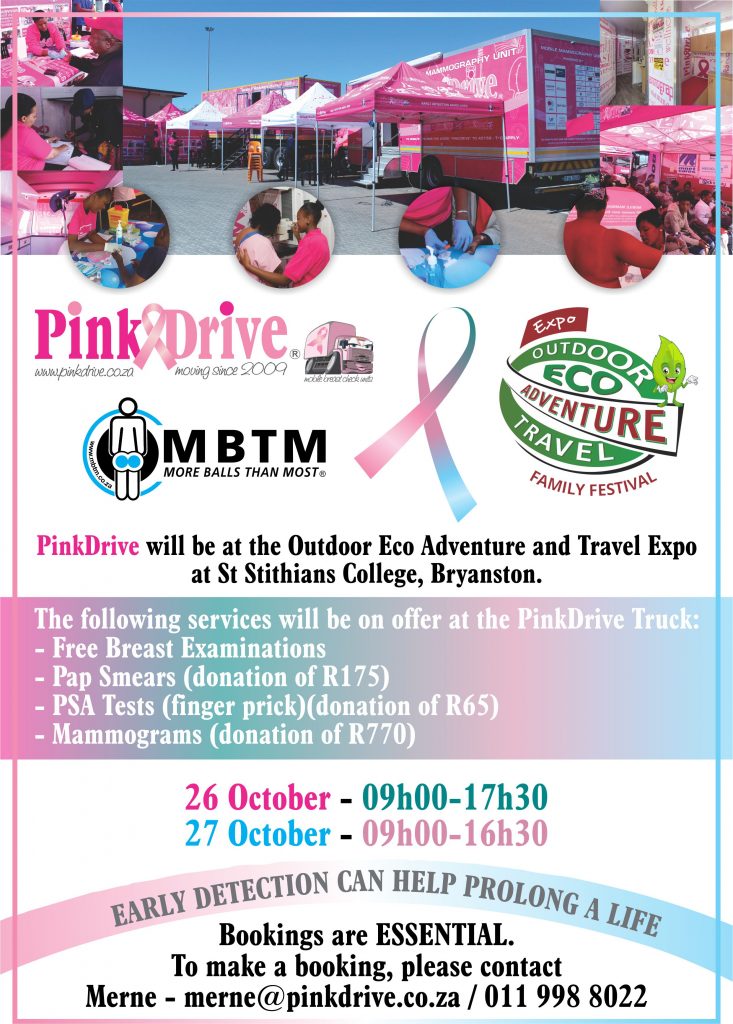 LIVE ENTERTAINMENT
SATURDAY – 12h00 to 14h00 Marius Marais in the Good Food Court
SATURDAY – 16h00 to 18h00 Andrew Lawrence in the Good Food Court
SUNDAY – 11h00 to 13h00 Andre van Rooyen in the Good Food Court
SUNDAY – 14h00 to 16h00 Andrew Lawrence in the Good Food Court
SATURDAY & SUNDAY – Big screen rugby
ALL WEEKEND – Coca-cola Gig Rig