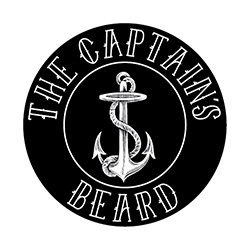 A STORY OF NECESSITY.
WHEN THE CAPTAIN DECIDED TO GROW A MANLY BEARD HE SOON REALISED HE NEEDED A WAY OF MAINTAINING THIS TESTAMENT TO HIS MANHOOD.
HE SPENT LONG NIGHTS BLENDING UP HIS OWN MIXTURE OF ESSENTIAL OILS AND WAS APPROACHED LEFT, RIGHT AND CENTRE ASKING WHAT THE SECRET TO SUCH A FULL, THICK AND SOFT BEARD WAS.
AFTER MUCH THOUGHT THE CAPTAIN HAS FINALLY DECIDED TO REVEAL HIS SECRET WEAPON TO EVERY RUGGED, BEARD TOTING MAN OUT THERE.
AND THAT IS HOW THE CAPTAIN'S BEARD CAME TO BE!