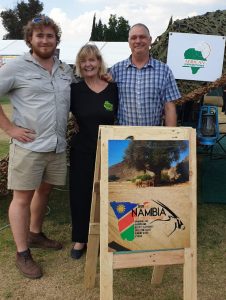 Congratulations to Paul Mamet on winning a trip of a lifetime to Namibia valued at over R60 000!
Paul wins a 16-night self-drive holiday through the best Namibia can offer guided by the expert adventure tour company, African Expeditions. Accommodation, meals, tour guide, park entry fees, camping equipment and more all included!
Pictured from left to right: Justin (African Expeditions), Terry (Outdoor Expo) and Paul Mamet (Prize winner)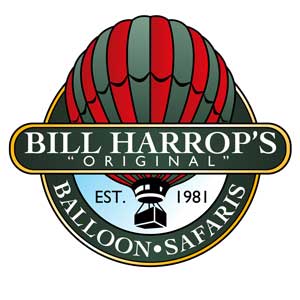 The lucky winner of the Balloon Safari valued at over R5 500 is Xander van Zyl!
Xander has won a Balloon Safari and Champagne Breakfast for 2 with Bill Harrop's "Original" Balloon Safaris. It's sure to be an unforgettable experience!
2019 Exhibitor Feedback:
"Good morning Shirley, Well after all the planning and meetings, the plan came together!

Please convey our thanks to all your staff – to include security, the ladies manning the toilets, the cleaners etc., this was a very big effort from all to make this work and not once did we notice an unfriendly face – nothing got taken from our open stand, and with all equipment left in the evenings! – compliments to security and your management team.

So how was the show for us? … WORTH THE EFFORT!! We worked very hard on every person that entered our stand and this paid off – not only did we add new clients to our database but also got new 4 BOOKINGS for one of our safaris! Lots of networking was done and some very good quality meetings were set up to take place in next week or two – we are sure this will turn into good safaris for us! We also enjoyed quality time with all our old clients who popped in to say hi…

Our new ATV safari product was tested with very positive feedback. Yes the numbers were affected by the rugby and yes, we would have liked more feet on our stand but we are a boutique safari company and do not work with big numbers, this meant that we were able to give extra time to every client visiting our stand.

Let us turn this positive! We believe what you put in you with get out and this includes a personalized and not "plastic" stand! The new clients we met will be well looked after…"
JJ
African Expeditions
2019 Visitor Feedback:
"I would like to extend my thanks to everyone that played a part in making The Outdoor Eco Expo such a fantastic experience. I thoroughly enjoyed every second I spent at St Stithians College in Bryanston, the variety of food and drinks was amazing, the amount of different exhibitors that attended the Expo as well as the atmosphere that was created by each and every person that attended. Upon walking into the festival the first exhibitor that caught my eye was the E-Bike stand and the "bmx track" right next to it. Being able to experience the E-Bike for the first time was just amazing as I normally take a mountain bike out. This bicycle makes it easier for any person who wishes to ride up a hill with ease. Trust me when I say this, The Outdoor Eco Expo is well worth it."
Xander van Zyl
Kiddies Competition Winners
We are proud to announce our winners of the Kiddies competition. Well done to:
Age group 7-10 years – Nhlanhla
Age group 5-6 years – Kiratwe
Both children are part of the Umbabat Outreach Programme and these little eco adventurers have won books from Honey Tales!
Exhibitor Stand Awards
Congratulations to the following exhibitors who won Best Stand Awards at the Outdoor Eco Adventure and Travel Expo.
* GOLD – African Expeditions
* SILVER – SANParks Honorary Rangers
* SILVER – Eastern Cape Parks & Tourism Agency
* SILVER – Gauteng Tourism
* SILVER – Shearwater Adventures Zimbabwe
* SILVER – Durban Tourism
* BRONZE – Ezemvelo KZN Wildlife
* BRONZE – Limpopo Wildlife Resorts
* BRONZE – City Red Bus
* BRONZE – E-Promo
* BRONZE – Tree Tags
* BRONZE – Visit Knysna
Listen to Pretoria FM radio spot:
Listen to Hot 91.9 and Jacaranda FM radio spot:
SOME OF OUR EXHIBITORS FOR 2019: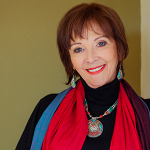 "This year we have added more very exciting components, to ensure we keep being creative, offering our exhibitors and visitors an experience and not just a static show."
Shirley Shearer
Managing Director of the Outdoor Eco Adventure and Travel Expo